Wolf hunting
There are few animals surrounded by as much superstition and ideas as the wolf. In folklore, they were usually looked upon as dangerous beings. This was also reflected in the law; in the medieval landscape laws the wolf was declared free to hunt and the commoner was expected to participate in the collective hunt for wolves.
During the late 18th Century, more liberal hunting laws gave ordinary people the right to carry out more extensive hunting. This led to a rapid decline of wild animals and to survive the predators had to seek out domestic animals to a larger extent. This prompted an increasing conflict between man and wolf. The hunting for wolves increased dramatically and finally led to the extinction of the animal in the Region of Halland – probably as early as in the 1870's.
There was a diversity of methods for hunting wolves: poisoned carcasses, trapping, pits, and drive hunting. The most spectacular of the methods was "Vargskäll" – "The wolf yell". Great masses of people gathered in the woods with equipment such as spears, drums, and ratchets, to form human chains and drive the animal to a waiting shooter. During the hunt wolf nets and wolf patches were hung up in the landscape in order to drive the animal in a set direction.
Read more about the objects
Wolf net
(VMF044633)
19th Century
Made from linen or hemp.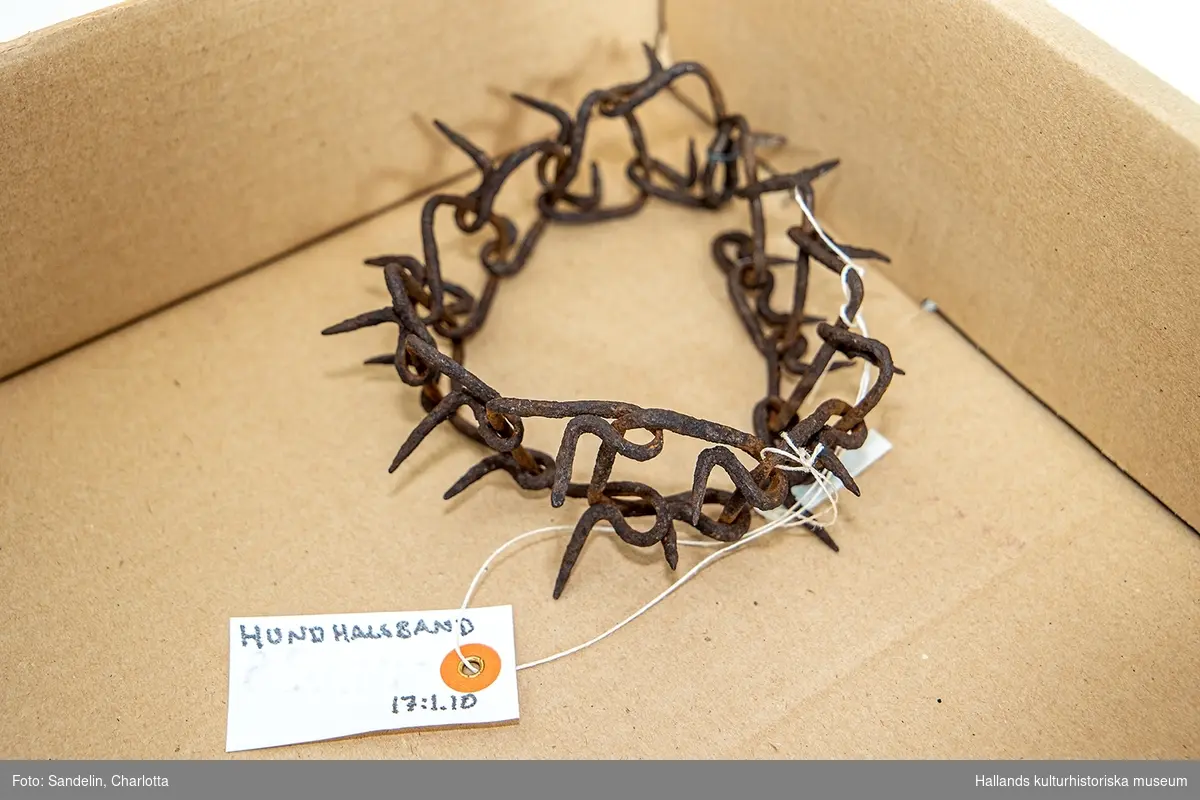 Chain collar
(VMF044628)
19th Century
Rivetted dog collar.  The collar has been used to protect the hunting dog from the wolf's bite to the neck.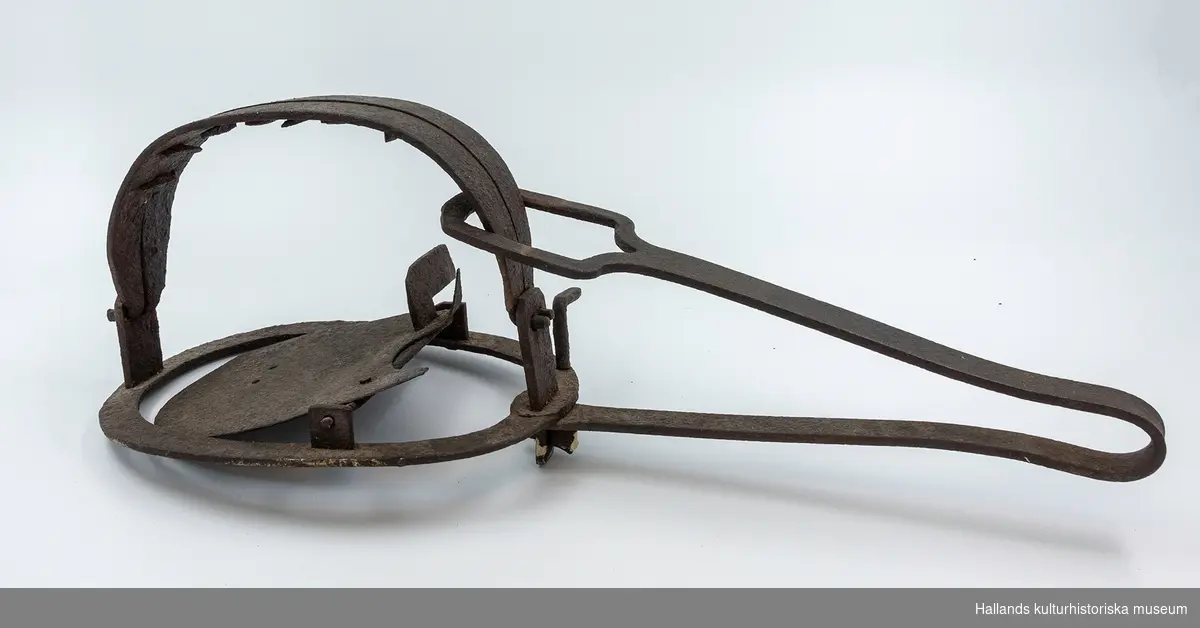 Wolf poison
Poison was an effective method of killing wolves. During the 19th century the poison stryknin was widely used to kill wolves and other predators. Stryknin was gradually banished even if it was possible to order from abroad during many years. In 1968 the use of poison against birds was banned. As of today, mouse and rat poison has gradually come to be banned as well.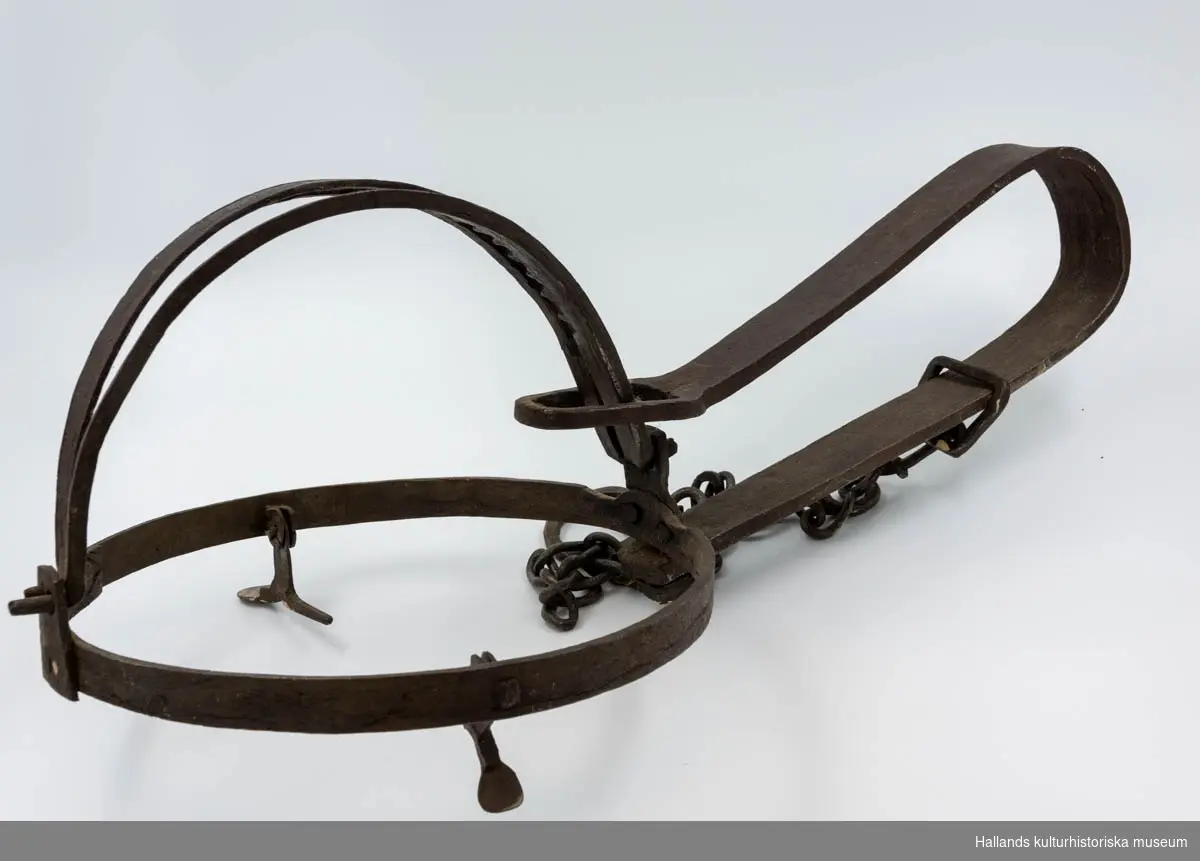 Wolf trap
(VMF019157)
Gunnarp, Falkenberg. 19th Century